If you're tired of unpacking your satellite dish, finding the signal, setting it up making sure that it is aiming the right way, then maybe you are ready for an upgrade. Luckily you have come to the right place as we are sharing loads of information on what you need to know so you can find the best automatic satellite dish for your motorhome.
Automatic satellite dishes are built to be so much more powerful than the regular dish or digital antennas, because they can either self-regulate their coordinates, or they have some tricks attached to them that enable you to get clearer channels on the road.
If you would like to see some of our recommendations, be sure to check out our rundown of the best motorhome satellite systems, otherwise, keep reading for loads of helpful tips.
Motorhome satellite dish options
On that note, there are different satellite dishes for motorhomes and caravans that operate using different principles. However, there are three main design options of the best automatic satellite dishes for motorhomes:
Integrated Manual Systems
Some automatic satellite dishes must be aligned by hand with the help of a satellite finder and a compass (which are usually attached to most manual satellite dishes) with the satellite. Dishes like the MAXVIEW precision fall into the category, and must be set-up outside the caravan or motorhome, then the signal can be adjusted to align the dish position with that of the satellite using tools that are integrated in the satellite systems.
Mounted Manual Systems
Unlike manual systems that have integrated satellite finders as their special feature, these usually come with stands and other types of manual handles that are used to raise the dish. Also, the dish is attached to the vehicle using a pole that is rotated to accurately control the alignment of the dish to the satellite through the integrated compass, based on the readings of the satellite.
Wholly Automatic Systems
The most convenient satellite dishes don't need any manual alignment. Satellite equipment such as the Snipe V3 or Snipe dome can auto-adjust themselves as long as the command is given to connect to a particular satellite.
What size satellite dish should you get?
Even the best automatic satellite dishes for motorhomes can turn out a disappointment if the wrong choice is made when selecting the right size of the dish for that motorhome or caravan.
For the right choice to be made, the key element to be considered is always distance. The farther you want to go, the larger your dish should be. So, if the buyer wants to stick to the major parts of the UK, then a small dish will do very nicely. While these dishes are efficient to a large extent, satellite systems like the well-known Astra 2F (The news channel satellite that carries signals for SKY news, BBC World and even CNN) requires a larger dish to receive clearer signals when you move away from the centre of civilization towards the borders of Spain.
Key points for consideration before buying?
Automatic satellites are convenient choices for their ease of operation, you just must turn them on and seek, or turn on and watch without having to manually adjust after setting them up the first time.
Connection
The AVTEX TV and Maxview HD receivers are one of the most popular ones, because they have in-built DVB-S elements, which help them connect to the most popular European Satellites. These three satellites give access to the major European channels that are actually worth watching on the road.
If the satellite dishes cannot tune to those satellites, then they will never receive these channels. Thus, a major consideration for choosing the best automatic satellite dishes for motorhomes is measuring how many, and which, satellites the automatic satellites can tune to.
Quick set-up with ease
Some satellites have to be placed on tripod stands and stored when it is not in use. On that note, it would be kind of pointless, if the one device that was created to relief stress, TV, was stress-inducing in setting it up every time it is needed.
The ideal satellite dish is one that requires little time and patience in putting together and dismantling, so the thought of watching your favourite TV show in your motorhome is not hindered by the difficulty of the set-up.
Satellite Tracking
The best automatic satellite dishes for motorhomes should be decked with a strong enough positioning system to help the satellite take stock of its position at any point in time, and which signal is strongest at that position. The positioning system should also be able to automatically home in on the strongest signal, and connect itself to that signal.
The ideal situation is that the you wouldn't have to personally involve yourself in the process of seeking out the strongest signal, and that convenience is the beauty of the best automatic satellite dishes.
In-motion capability
It's great to have a dish for watching satellite TV from anywhere, but it is even better to have one that allows you to watch TV anywhere and anytime, and that is the importance of the In-motion feature. With the in-motion viewing attribute of an automatic satellite, the rest of the family and friends that are not driving can still be entertained even when the car is in full flight.
Options
It is important to have a dish that doesn't restrict or perfectly aligns with your choices. The best automatic satellites for motorhomes and caravans can connect to more than one television and other similar features that allow the owner a certain freedom when using the Satellite. Also, the best automatic satellite for you depends mostly on your preferences.
If the camping and parking locations you are likely to visit makes setting-up and dismantling unpleasant, then getting an easy to set-up Satellite is ideal.
The TV Choice
An important point is that the television that will be used with the satellite dish must have an in-built receiver to allow you have a neater arrangement in your motorhome or caravan, as well as a more efficient system when it comes to power usage.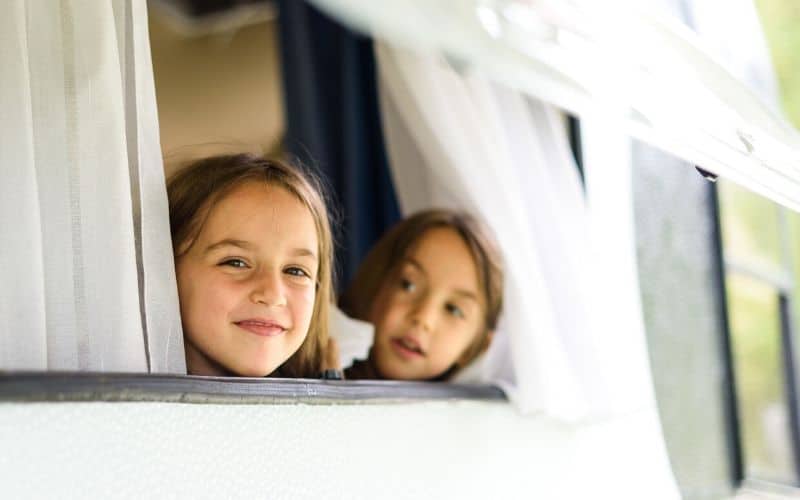 FAQs
Should I get a dish or a dome satellite system?
Choosing between a dish or a dome is one of the considerations that is not down to personal preference. If you where you're going is known for strong winds, then a dome will serve you better since they can withstand pressures from hurricanes, even though they don't have a good a reach as dishes.
Will dishes work anywhere?
Most dishes need an unobstructed view of the sky. That means cannot be used from inside the motorhome. Good thinking, though.
Can other receivers be used?
Yes. In fact, it is even advisable to get televisions that have their own in-built receivers. It will save you from messy cables and cost a lot less than getting a new receiver. However, the receiver type to be used usually depends on the carrier, so keep that in mind.
Any other special features I should look out for?
Many, some automatic satellites can retract themselves when not in use, others can memorise the last position they were deployed in and auto-adjust, so that the viewing experience is not as stressful. Just keep an open mind.
Final thoughts on Choosing the an automatic satellite dish for your motorhome
Why shouldn't you have a standard slice of entertainment wherever you go? We're not talking about these unreliable systems using internet and other networking alternatives, satellite dishes give you a more direct connection to your favourite shows, anywhere you are, and with the same level of quality viewing.
Of course, you must be sure that your brand of choice perfectly tallies with your unique situation, which you can do by checking with all the considerations above. However, when you do get the right and the best automatic satellite for your motorhome, you can rest assured that you get something that can make a home for you, no matter where you are.