Do you miss your favourite sports programs while travelling in your caravan? Well, there's a solution to your problem! With Sky TV you can enjoy watching your favourite movies and sports channels while travelling so your trip would be more exciting.
You might be wondering how to get Sky TV in a caravan if you haven't used it before. We are here with answers you've been looking for.
In this article, you'll find more information about Sky TV and how to set it up in your caravan.
Let's get started!
*The links in this page are affiliate links, that means that if you purchase after following one, I make a small commission from the sale at no additional cost to yourself. Take a look at our disclosure page for more info on this.
How to get Sky TV in a caravan
Most folks don't know the accurate process to get the Sky TV installed in their caravan, and that's why they have to travel missing the favourite programs. But we don't want you to do the same.
Check out this complete process to get Sky TV in your caravan and how to install it correctly.
First off, of course, you have to purchase the Sky TV satellite system from an authorized seller. There are multiple sellers available in the UK, so you won't be finding it hard to use the satellite system.
Coming to the installation, you need a compass before you mount the satellite on your caravan's roof or have a tripod system.
Aim the satellite dish to 145-degree using a compass, a South to Southeast direction.
Make sure that the angle of elevation is around 25-degrees so that the satellite system works fine. In the UK, the actual angle can be between 21 – 27 degrees depending on where you are. Just be aware, the dish's arm will look straight at this angle, kind of an optical illusion, so use the compass to check the angle.
Now connect the cable to the receiver's box and then connect the receiver to your caravan's TV.
Once, all the loose wires are connected, turn the TV and go to the receiver box settings using the remote.
Navigate to the signal test option to ensure that the angle of the satellite dish is perfect for an interruption-free viewing experience.
With the dish connected and roughly, if the signal strength is poor, you can tweak the dish a little bit and then recheck the signal strength.
If you struggle and get annoyed at this process, you can invest in a satellite signal finder which will make the alignment far easier.
You have to move the dish until you get good signal quality and strength for watching TV.
Now anchor the dish on the caravan properly to ensure that it doesn't fall off due to bumps and heavy winds.
So you have aligned your dish, and the TV is working fine? Pat yourself on the back! But there's one more thing you should know.
If you are travelling with your kids, then there's a fair chance that you don't get enough time to watch the football match. But we are here with a solution for it as well.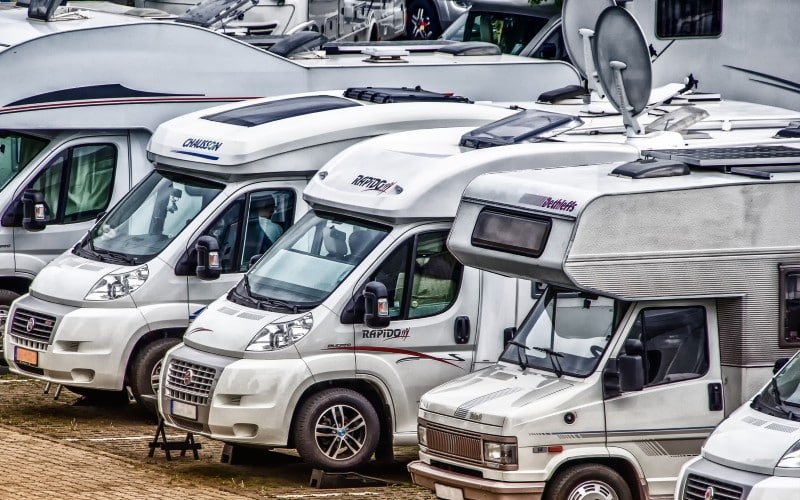 How to stream Sky TV using mobile internet
If you don't know about the Sky Go app, then you are missing something big! With the Sky Go app, you can stream different channels on your mobile and laptop using the internet, so there's no need to bribe the kids with chocolates and ice-cream to get the remote.
For your ease, we have classified it into different sections:
How to stream Sky on your TV?
There are two ways to watch SKY TV on your television without a receiver and a satellite box. Either you can use the HDMI cable to connect it with your laptop, or you can use the mirror cast method.
The simplest way is downloading the Sky Go app on your smart V and then pairing it with your laptop using HDMI cable, and you will be able to stream content using the internet. You can log in with your Sky TV credentials to watch the available channels.
If the HDMI method doesn't work, then we have a different one for you. Download the Sky Go app on your laptop and log in with your Sky TV customer credentials.
Now screen mirror the laptop with your smart TV, and you are good to go. Don't know how to screen mirror your laptop with the TV? Check out this article for the complete process.
How to stream Sky TV on a smartphone and tablet?
Streaming Sky TV on your smartphone is as easy as it sounds. You have to take a Sky TV subscription for mobile to start streaming TV channels without paying for the data charges.
Download the Sky Go app on your device, and log in with your account details. Once done, you are ready to stream content from your smartphone or tablet.
Pros
Stream anytime, anywhere
Decent quality
Download and watch later
No data charges
Cons
The process can be a bit confusing
You need Sky TV mobile subscription
Final thoughts on getting Sky in your mobile home
If you have a Sky TV subscription, it is definitely worth getting set up so that you can keep up with the Premier League or Ashes on the road. Other sports are available of course. Sky TV is a reliable service provider ad you will get access to a plethora of movies, news, and sports channels.
With this article, you can quickly install a portable satellite dish, or you can stream the content using your smartphone or laptop with the Sky Go app.
Both methods work well for caravans, and there is no need to spend a fortune on streaming online content by paying the data charges.
If you have any queries or you are facing any problems in using Sky TV in your caravan, then do let us know about it! Our team will try to resolve your concern as soon as possible so that you don't have to struggle alone with fixing the issue.
Next time when you head out on a trip in your caravan, make sure to use Sky TV to enjoy uninterrupted access to different channels at reasonable rates.