Now that it is easier than ever to get your caravan connected to the internet, smart TVs have become a great choice for mobile homes.
Motorhome TVs are built with the toughness to withstand the rough movements and instability of the road. It is for this reason that the best smart TVs For Motorhomes come with anti-glare screens – to keep off the occasional blinding sunlight – they are not regular TVs.
Now, not all motorhome TVs are equal. That most TVs are designed to use a 12V power supply simply goes to show that a lot of thought goes into the very competitive industry of Motorhome TVs.
A level of competition, that makes the choice of the perfect Smart TV for your motorhome a tough one. Luckily for you, below is the supreme guide to choosing the Best Smart TV for your Motorhome.
*The links in this page are affiliate links, that means that if you purchase after following one, I make a small commission from the sale at no additional cost to yourself. Take a look at our disclosure page for more info on this.
Best smart TV for motorhome: Product reviews
1. Sharp 24" Smart LED TV
Sharp's solution for visual stimulation in your caravan is a full suite of features in a flat box. This TV can be mounted on the walls, or fixed to the roof with supports. This Motorhome TV is one of the few pieces that can be powered using 24V, 12V or the main power through the adapter and the 3 mains plug that comes with the TV.
There's also the recording feature that allows you to store your PVR shows, which you can catch off the free antenna or the Satellite tuners provided with the TV. Also, the 24-inches can be enjoyed with the DVD player and integrated Freeview Play capabilities, so you don't need to get any extra devices, which is always great to see.
The TV is also bejewelled with many ports, including a USB (a competent one that can play MP3, M4a, WMA, AAC and other audio file types as well as other video files), HDMI, Scart, Component, Mini AV and Ethernet ports. There's also a measure of relatively good sound and a sound jack for earphone jack. That's all with its connectivity too, since the TV also has Wi-Fi connectivity, which is all most people have to hear to get interested.
Pros
Many input ports mean more options for viewing aside from satellite
Recording feature is very handy.
Freeview connection is always welcome
Relatively okay sound
Great value for money
Very smart
Cons
Massive size, a turnoff for smaller motorhome owners
Not too cheap
Find out more
2. Avtex DSFVP TV
Avtex took a more flexible approach to providing a TV for your motorhome. They accomplished this by first giving 3 different size options (the 19.5", 21.5" and the 24" options). Each of these three sizes have very similar features that include a DVB-s and DVB-T tuners, integrated HD satellite decoders, Freeview Play and Freeview HD connections, and a compound program list that covers a week before and after viewing.
The seeking process for the AQT signal is automatic and is ready to be deployed at the touch of a button, while it can also work with either a 12Vor 24V on AC and 240V on AC supply since it is connected through an adapter.
The TV also has Wi-Fi connectivity built-in so you can get extra channels or services like Netflix. Apart from that, the company also has a smart package bundle that you can subscribe to if you want a cheaper and free-flowing mobile Wi-Fi for your caravan. For the 24.5" version, there's a clearer mention of the Kuma 4G kit attached to the TV in addition to a KUMA hotspot kit that allows sharing to other mobile devices.
The negative part is the fact that the smallest size is the 19.5" option, which many motorhomes might not accommodate. As for the other connectivity options, there are just the USB and HDMI ports provided, even though the integrated satellites are more in focus.
Pros
Breath-taking design
On-screen leisure battery meter was a step into the future
Dual voltage supply is a masterful touch for better product durability
LED screen was made to be admired
Cons
Huge price tag
Smallest size is 19" large, which is too big for some caravans too
Find out more
3. Cello C24SFS 24" Android TV
In case you hadn't noticed yet, the Cello brand is the most popular of all Motorhome TVs, and for good reason. The TV is made with Freeview extras and a built-in DVD for good measure. There's also the part about the energy flexibility that allows the TV to connect to 12V power sources through the adapter provided.
The remote controls are provided, which you'll be surprised with how many brands don't supply. However, one obvious thing other brands don't add, is the compatibility of the TV with android apps. With it, you can use apps like Netflix, Sky Go, Amazon Prime, Kodi and the rest of the android media empire including social media if you can connect the TV to your router.
As for its connectivity, the Cello motorhome TV goes an extra mile with the addition of a micro SD card in addition to the HDMI and USB ports. The TV also has Bluetooth connectivity, which solves unfortunate negative of the terrible audio system the TV has, since you can just connect a Bluetooth speaker to it.
Pros
Very popular brand, so they're doing something right.
Android app player
Class A+ energy rating is marks the elite level of craftsmanship involved in the engineering
Comes with a remote control
Comes in wide range of sizes
Integrated Freeview and DVD player is a massive plus
Cons
Poor audio in comparison
Does not support dual-voltage supply
Find out more
Buyer Guide & FAQs
What to look for in a motorhome TV
Screen size
This consideration is double-faceted. First you should consider the screen size that you will best enjoy. Most manufacturers opt for smaller screen sizes usually between 9 and 24 inches. Which, of course, is helped by the fact that the viewing distance is so much smaller than watching the telly in your sitting room. Anything bigger, will come at a predictably greater price.
More importantly, you should be guided by how much space you have in your motorhome. There is obviously no point in putting a 48" screen in your motorhome when the space available can only cater for 12."
TV Inputs and Connectivity
You can do fine with a TV that only has in-built receivers, but a TV with many ports like HDMI, USB and earphone jack ports will do an even better job of keeping you entertained. For instance, if a TV has a Bluetooth connectivity option, that means that you can connect your Bluetooth speakers to get higher quality sound. And trust me, you'll definitely need that.
Power Source
Many of the Best Smart TV for Motorhomes usually come with a 12V power source requirement, which allows you to keep your TV on, even when you can only rely on the leisure battery. Others offer the dexterity that allows changes from 12V to 24V, which isn't necessary, but usually guarantees a stronger battery since they can withstand frequent power surges.
Disc Players
In case you run out of internet signal or the satellite signal has faded, it'll still be good to enjoy the TV you spent your hard-earned money on somehow. TVs that have in-built CD and DVD players fulfil that situation for you so you always have something to watch.
Anti-Glare Monitors
If your window blinds and curtains should ever go up, it would be great to know you can still enjoy your TV nonetheless, and that's what non-glare monitors do. They reflect the sunlight rays without disturbing the quality of your entertainment.
Key points for consideration before buying?
Position
The first consideration you must take in is where the TV can be placed. This will determine the size and probability of the TV coexisting with the rest of your stuff. It just might happen that you must rearrange your entire motorhome to create space for the new entertainment companion ad where you or your family and guests can sit or lie to watch the TV. It could also happen that the purpose of the motorhome might not allow a TV, and it'll be painful to realize that after buying your TV.
Form
Again, CRT monitors cannot withstand the rocking of motorhomes on the road because of how bulky they are. LED TVs fare better, but apart from the 24V big guns that you can manage if they are hanged, the 12V TVs are not worth the risk.
To save yourself all the stress, go for RV TVs, which were specifically made to handle the situations motorhomes go through.
TV options
You do not have to be told to go for the motor home TV with the most tantalizing deck of features. This is not about getting the slimmest TV, because that actually means that you'll have to make do with a worse sound system. It's more about getting a TV that has enough TV input and connectivity options, as well as a display with high definition and anti glare properties. Some of the best smart TVs for motorhomes also come with extra features like smart recorders and rewinding extras.
Channels
Before you invest in external satellite tuners, it will pay you to know that some TVs now come with integrated tuners and receivers for satellite channels. One would expect them to have a few deficiencies, but it will surprise you to know that the TV might be blessed with the Freeview HD suite, which gives access to so many High definition channels.
Unfortunately, the set-up process usually takes some patience, even if it has the AQT feature that makes automatic search for channels happen once you press the button. Also, there might be the worry of how much signal strength the TV can hold. You can simple ask the motor home owners around how they get their channels, or you can try to get amplifiers or boosters to make your TV get better satellite signal.
Price
It would be nice to have the very best smart TV for motorhomes, but it would be terrible if you had to steal money to make up the budget. Your budget will either restrict your spending at a time to the basic essentials, at least for now, or give you the freedom to get all the boosters, amplifiers, leads and the other extras you'll need. Regardless, smart TVs are largely affordable, as you can acquire the entire piece and trimmings so far you have more than £300.
Difficulty
How hard is it to set-up the TV? It might not be a deal breaker for you, but you can save some bucks from having to call in 'professional' help for installation. Not when there are much simpler-to-install alternatives.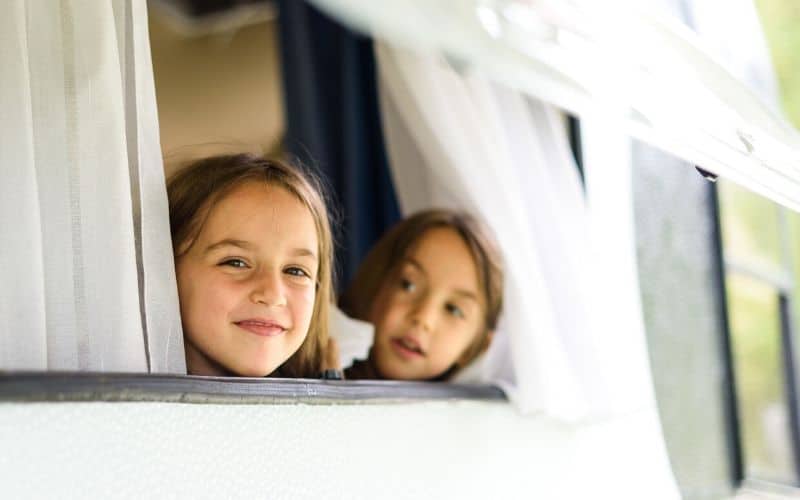 FAQs
Can I do RV wiring myself?
That depends on some factors, one of which is the difficulty of setting-up the motorhome TV. The other consideration is the motorhome itself, how spacious it is, and how a TV can fit into its setting. In some cases, you might need professional opinion on how to do a perfect job.
Would I need different satellites for different TVs?
If you plan to install different TVs in your motorhome, you don't need to get two different satellites, you can just get different receivers for the same satellite, or get two TVs with built-in receivers and connect to the Satellite.
My TV turns off when I use other appliances in my motorhome, why is that?
Voltage fluctuations are normal, and if the rating of your motorhome TV is not impressive enough, it will frustrate your viewing experience.
What can I do about voltage fluctuations?
You can use a DC filter to manage the voltage fluctuations so you get a smoother viewing experience in your motorhome TV.
Final thoughts on the best smart TV for motorhomes
Motorhome TVs give their owners an avenue to pass the time, but the best smart TVs for motorhomes do so much more. For sure, there's a long list of the best smart TVs for Motorhomes. However, the products already discussed stand out as proven and trusted choices when it comes to motorhome TVs.
The Cello C24SFS 24" Android TV Gives a unique android player experience along with its many other positives, the Sharp 24" Smart LED TV is off a production line of reputable TVs and it has the elite level of performance written every screw it is made with, while Avtex DSFVP TV is relatively less popular, but is still the most expensive since it offers an extensive internet package, it more than justifies the price.
Whether your motorhome TV is for those rare down times when you're whipping something up for dinner, or the family's favourite comedy show, these TVs will give the best experience. And with their suitability to a range of budgets, you are doing no wrong as long you get one within your financial power. Just catch one, and enjoy your paradise.