In today's world, staying connected to the internet has become increasingly necessary and even while travelling through the country in a motorhome, we still need to be connected.
Whether you're only planning for a weekend getaway with a couple of friends or you intend to travel and live in your mobile home for several months, you'll definitely need benefit from reliable access to the internet.
In this post, we will explore some of the motorhome network options currently available to you in the UK.
*The links in this page are affiliate links, that means that if you purchase after following one, I make a small commission from the sale at no additional cost to yourself. Take a look at our disclosure page for more info on this.
How good can WiFi in a campervan be?
Even if you're going out on road trips, you're likely to still want to have access to WiFi.
While you're away in your van, you may want to be able to reach your family and friends back home via emails, voice calls, and even video calls, you also need the internet for your GPS to help you find your way through the country.
This is why pretty much anybody going travelling through the UK in a campervan should consider their options for motorhome WiFi.
Don't worry; great motorhome internet options exist!
The good news is that your options may be far greater than you think. If you pick the right type of WiFi system for your needs (which we'll get into in this post), you can do a wide variety of things, from watching TV and scrolling through social media on your phone to getting on with work during your usual office hours if you have to.
You might be surprised on just how good a connection you can get even in remote areas (depending on the type of WiFi device you bring with you, of course).
If you like to work while on the move or have some things to take care of while on the go, you definitely need stable network connectivity.
Even to relax and have a good time in front of your smart TV requires a fast internet connection, for fast video downloads and live streaming. Having a WiFi connection is a necessity if you're planning on watching your favourite Netflix TV shows and movies on your devices during your travels in the UK!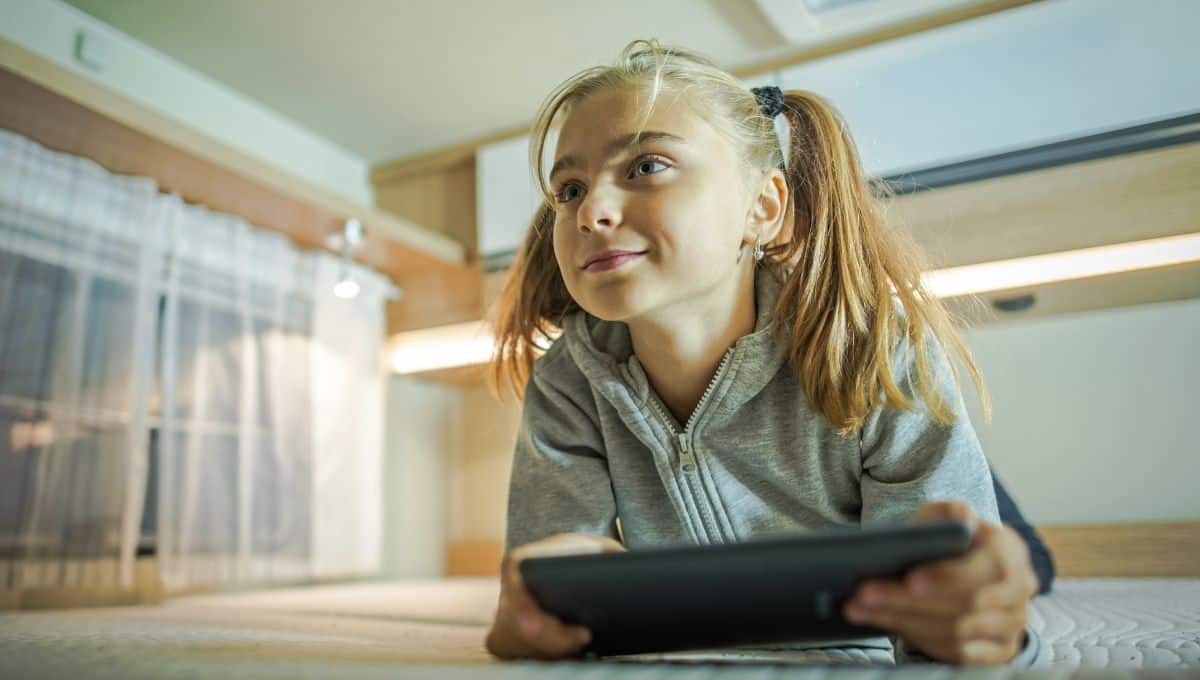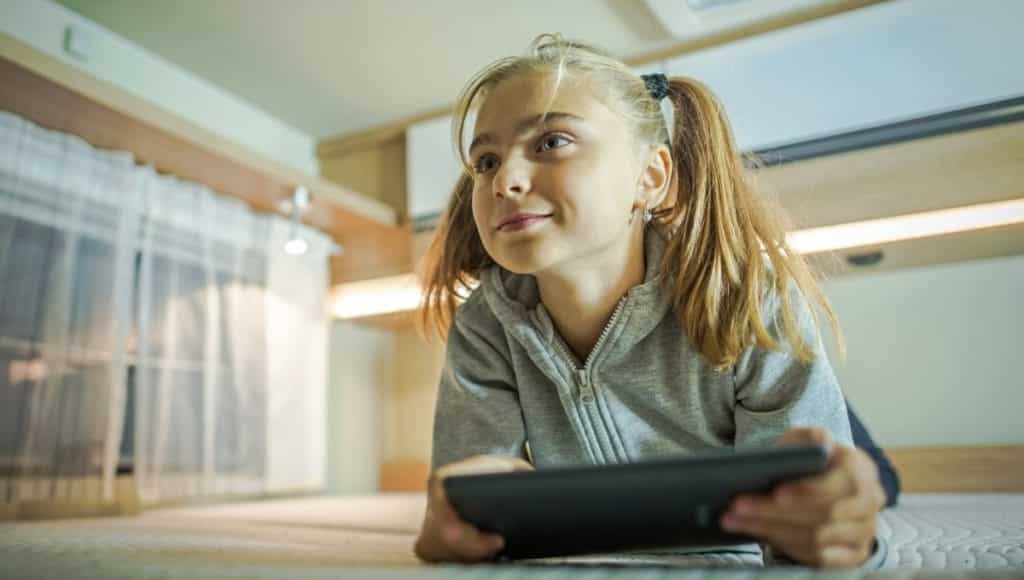 Your motorhome network options
Let's face it, the internet has become a very important part of our lives. Even something simple like checking up on social media on our devices is a daily activity.
With this in mind, it's important to consider what solutions are available for getting internet in your motorhome. To help you out, our connectivity experts will take a look at some of your options so you can decide for yourself.
From a 4G roof antenna to getting the most out of data usage on your smart phone devices, there are certainly a few different things that you can do to get a WiFi connection during your travels.
The 3 main types of internet options for motorhomes
Thankfully, there are a number of options for accessing WiFi in motorhomes in the UK and to enjoy a smooth and unlimited connection you need to choose the best type of mobile internet system for you. Available motorhome internet options include;
WiFi boosters
Motorhomes satellite Internet
Mobile broadband – 4G or 5G
Motorhome Internet Product Guide
There are different ways to get internet in your motorhome – and with the ability to connect your smart phones, laptops, TV and essentially any device you need to the WiFi, you won't need to worry at all during your trip.
Let's take a look at each of the different types of packages in more depth to help you decide which one will be best for you.
WiFi Boosters
Most caravan parks, truck parks and coffee shops now offer free WiFi as part of their regular services. And if you intend to stay camped for most of the time, you can get internet access using this free WiFi.
This can be a good choice, but a major disadvantage is the strength of the connection.
This public solution in particular will often have lots of people trying to tap into it and this can weaken the connection. Or you may be packed in an area where the connection isn't very strong, because a signal grows weaker as it gets farther away from the router, this can also make your connection really weak and slow – which can be very frustrating. This is where boosters come in.
What do these devices do?
Essentially, these gadgets are designed to boost the strength of the wireless internet signal. It works by connecting to the WiFi signal from the transmitter, it then amplifies this signal and transmits it to more areas.
This will make your internet access much stronger and faster, making you less frustrated from a slow and unstable internet connection.
A WiFi booster, such as the above Kuma WIFIKIT, is an excellent device to have in motorhomes, especially if you intend to stay camped on organised sites in the UK for most of the time.
But getting one can be really tricky because you have to make sure you find one that is compatible with a wide range of routers, has a secure connection and is strong enough to provide you with fast connection.
Which type of booster is best for motorhomes?
There are different types of boosters; there are the extenders, the repeaters and the boosters, they basically do the same thing. And there are the wired and wireless boosters. For a motorhome, a wireless booster is a better choice, to aid mobility.
Motorhome Satellite Internet
If you intend to always be on the move in your motorhome and still want a stable and fast internet connection, or you'd like to move very far civilization, then getting your WiFi from a dedicated internet service from satellite providers may be the best choice for you.
This type of signal is trapped from space via a satellite dish and then transferred to a modem in your motorhome. It's either you mount the satellite dish on the roof of your vehicle, or you can use a tripod-mounted satellite dish.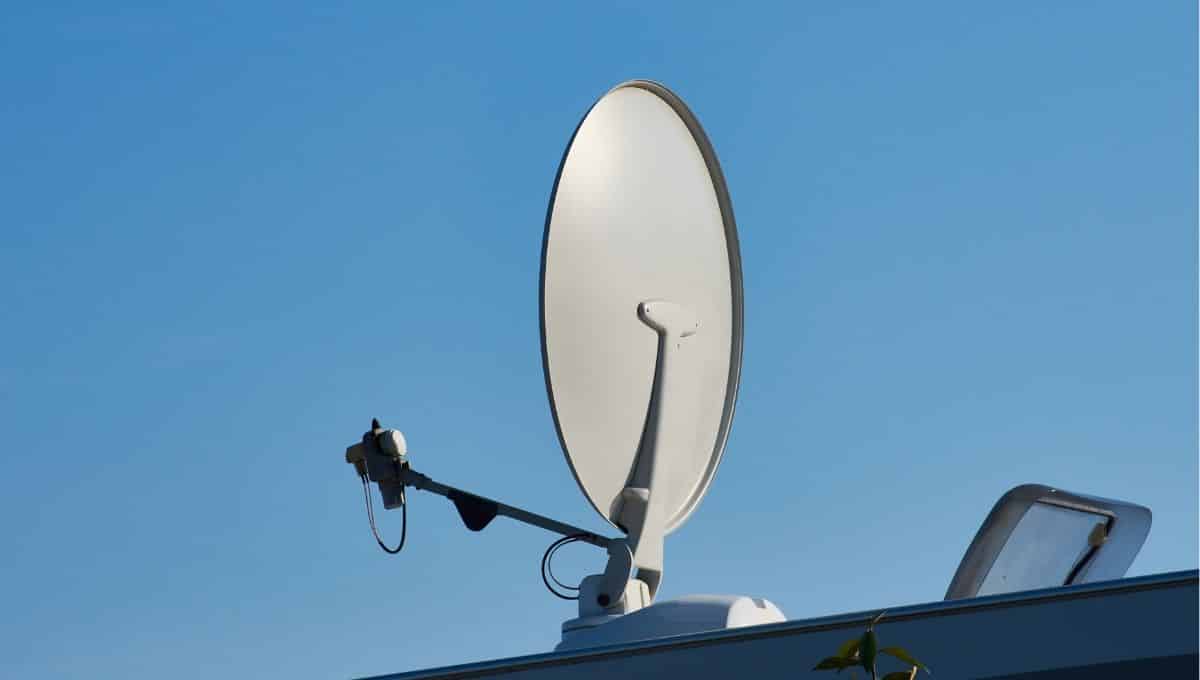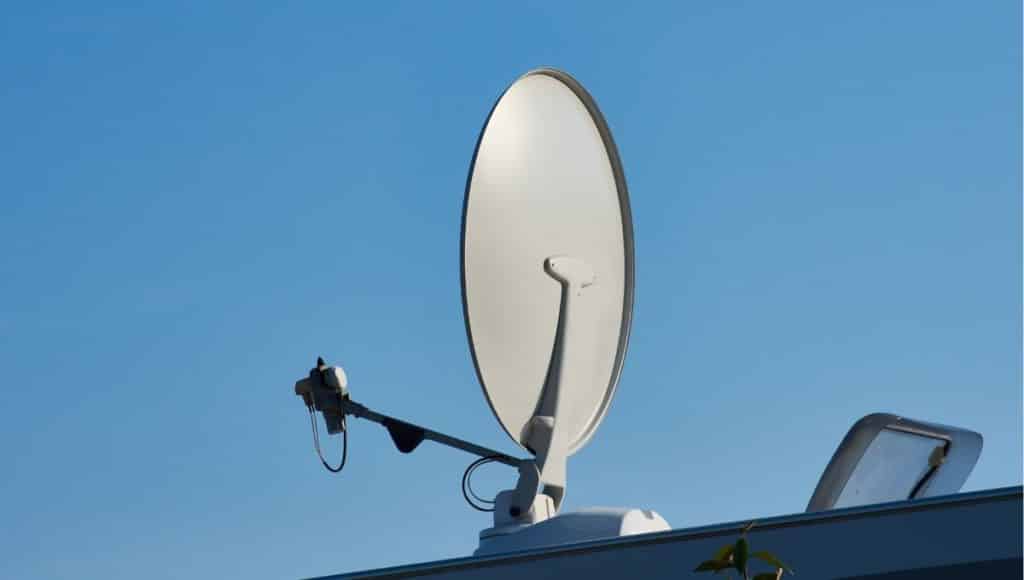 How does it work?
A roof-mounted satellite dish is permanently attached to the roof the campervan. While the tripod-mounted satellite dish is mounted on a tripod stand and placed somewhere in the motorhome with the sky in full view.
An interesting thing about the roof-mounted satellite dish is that you won't have to climb to the roof each time you want to rotate the dish for a clearer connection, because with just the click of a button the satellite will automatically rotate to find connections.
Another advantage of mounting your satellite dish on the roof of a campervan is that it won't take up any space in your motorhome since it's technically not in it but on the roof.
Unlike the roof-mounted satellite dish, the tripod-mounted satellite dish will take up enough storage space in motorhomes, and if you choose to get RV satellite-based internet, storage and positioning are things you should seriously consider because these dishes are usually quite large.
The downsides of getting motorhome WiFi through a satellite
However, the dishes are large, they have to be as they have the ability to send and receive data. At a minimum you'd expect them to be 80cm, which makes roof mounting an issue on smaller caravans. There is another drawback, the cost. They are expensive, as in thousands of pounds expensive.
There is no doubt that when it comes to performance, getting a connection from a satellite for your motorhome is a great option, especially if you intend to travel to very remote places where WiFi network is virtually non-existent.
No matter where you go, provided you can see the sky, this type of connectivity will have you covered. However, a massive disadvantage though is the very high purchase price, to get one is really expensive.
Mobile Broadband – 5G or 4G Hotspot
If you've got SIM cards in your mobile phones, then you might have a good network solution already! Another great way to connect a motorhome to WiFi is through a wireless cellular internet connection – in other words, your mobile broadband could be all you need.
You may already be familiar with this type of connection from your smartphone hotspot and if you didn't know it, this is actually a good way of accessing the internet from a motorhome, since your smartphone is with you almost everywhere you go.
How to get mobile broadband connectivity
All you have to do is subscribe for data from your network provider and enjoy a internet connection from your own personal hotspot via your mobile phone, this means you're literally using your phone as a modem. Alternatively, you can get a device for wireless networking.
Devices specially built for wireless networking are a great motorhome WiFi option, they are able to connect to external antennas and are better at picking up internet connection than smartphones.
They usually require a SIM card with an active data plan and a 3G or 4G data connection. If you've got a phone, a SIM card and a plan for connectivity, access to mobile broadband should be a piece of cake.
Whether you want to watch some TV on a streaming device or send an email to a friend, mobile broadband could help you out.
How good will the connection be?
The speed and WiFi signal of your internet will most likely rely on the type of data SIM cards you're using on your devices, so if you have an older phone with a less than ideal SIM card plan, this may not be the best choice for you.
The good news is that there are plenty of SIM cards that offer great deals and plans, so it might be worth looking into some of the different options for your mobile phone before going out on a trip. Fortunately, there are several options for good data SIM card plans in the UK for you to choose from.
The good news is that there are plenty of SIM cards that offer great deals and plans, so it might be worth looking into some of the different options for your mobile phone before going out on a trip. Fortunately, there are several options for good data SIM card plans in the UK for you to choose from.
What system/devices should you look into buying?
With a wide variety of options to choose from, it's not always a simple task to pick the ideal one for your needs. To help you out, let's take a quick look at a few different motorhome internet products.
4G Smart Compact WiFi
Motorhome WiFi offers excellent connectivity for campervans with their 4G Antenna with Router and Dock. Whether you want to stream TV shows on Netflix or your Amazon Firestick or just browse social media, you'll find that these portable hotspots will give you great internet in your motorhome. Some of the benefits of these 4G roof antenna packages from Motorhome WiFi include:
Perfect for streaming TV and use in remote or rural locations
5x the performance of a mobile phone
WiFi for up to 10 devices
Wall Mounted docking station for the MiFi device
Remove & use portably
These products come with a roof mounted antenna, E5577 MiFi device, Smarty PAYG SIM card and more to ensure that you'll have WiFi in your vehicle wherever you go. With all this equipment, you'll be set to enjoy speed and functionality throughout your trip.
Kuma WIFIKIT
if you're looking for a good quality Booster, than this product from Kuma might be a good choice. Fast connection and versatility make it an excellent choice for anyone who wants to increase the free WiFi connection they get while out and about.
Thanks to the WIFIKIT, you can use your smart phone, Amazon Fire Stick and essentially all your devices with efficiency. The performance offered by this particular product is incredible, which is why it's well worth considering checking out.
Satellite plans
There are quite a few different options available when it comes to getting WiFi from satellites, and since each one has different features and pricing, then decision will often come down to personal preference. Motorhome WiFi and EZ-Net are both great providers to look into if you want to get internet use from a satellite.
How can I choose the best one for me?
There are so many easy ways to get a connection while out on a road trip these days, and whether you want to set up a personal hotspot or improve the strength and speed of a public network, there are quite a few options available to you.
Connecting a motorhome to the internet is not luxury but a necessity and any of the motorhome internet options above are an excellent way to stay connected while camping. But just like most things in life, some options suit some individuals best.
In spite of this, choosing the best one for your needs isn't rocket science and shouldn't be difficult, it boils down to the type of traveler you are, where you intend to camp and of course, personal preference.
When to choose a WiFi booster
If you like to stay on campsites, a booster will be a good choice since most of these camps already have WiFi, so all you need is to ensure your connection is as strong as possible using a booster.
When to choose mobile broadband
If you prefer to stay in small towns and pack by the curbside, then a 4G hotspot from your smartphone or a wireless networking device is a good choice – just make sure that you have a good plan on your SIM card or upgrade before your trip (and definitely consider the costs of data usage).
When to choose satellite internet
But if yours is a wide spirit and you intend to travel far into very remote places and possibly to the ends of the earth, then you might be better off looking into getting a satellite dish.
While more expensive, they can sometimes be the best choice for those who want fast and easy connectivity wherever they are.
Final thoughts
Wherever you go on your journey, you can enjoy your favourite TV shows and great connectivity if you pick the right equipment. There are quite a few things that can help you to make your decision, whether it's where you're planning on going or even just price.