Camping is fun and there are always many interesting activities to keep you engaged but sometimes you may want to take a break and just sit back and enjoy your favourite TV shows or movies. The good news is that there is a lot of choice when looking for a Campervan TV, but how do you make the right choice?
You may not know this but choosing a TV for your campervan or caravan is completely different from choosing a TV for your sitting room. Because unlike your sitting room, your caravan will be much smaller and most times will be on the move. And to get that ideal 12-volts caravan TV, certain factors not quite relevant when searching for your home TV will have to be considered. 
Unlike your home TV, your caravan TV will be subjected to significant vibrations and high temperatures when you're on the road moving from one camp to another. So your purchase should be designed to withstand these vibrations and extreme temperature variations. Besides these, there are other things to consider when looking for the ideal campervan TV and we've put them down so you can easily zero in on the perfect TV for you.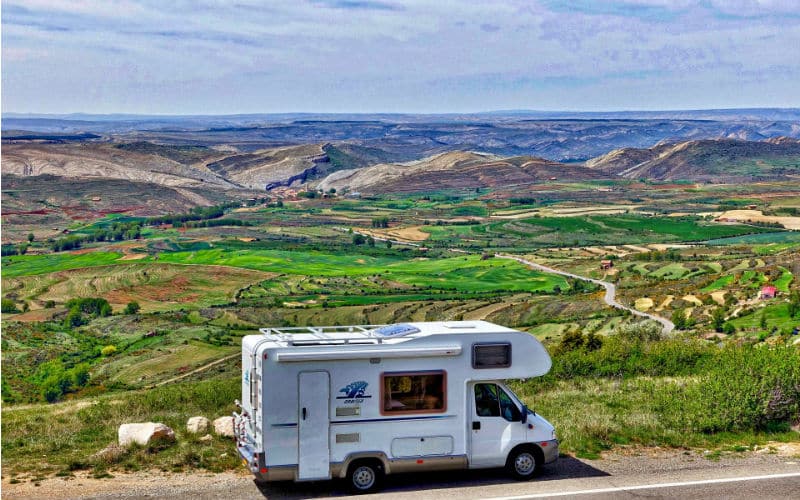 1. Be sure you get the right size Campervan TV
When buying a campervan TV, just any size will not do. If you go for a really large TV you may end up with an item that's too bulky for your caravan and this will definitely be an inconvenience. Alternately, a TV too small in size may not suit your needs and you may not get that ultimate viewer experience. With this in mind, striking a balance between too big and too little become imperative. Most 12-volt caravan TVs are between 16-inches to 32-inches.
Space is something else to think of when deciding the best TV size for your caravan. If you have a small caravan or motor-home, it may be best to go for a small TV so you don't become too pressed for space. Choosing the right TV size for your caravan isn't as difficult as it may seem, you only have to think of how big your caravan is, the amount of space you have in it and the TV size you prefer.
Sometimes it's best to go for a portable and lightweight TV so that you can easily move it around, and when you're not out camping you can move it from your caravan to a room in your home as an extra set. But if you have enough space in your caravan and decide that big TV suits you just fine – good, but don't go beyond 32-inches so you don't end up with an item that's too bulky for your caravan.
2. Look for one with a battery backup
Another important feature to look for in a caravan TV is built-in rechargeable battery. Despite the fact that you will most likely get a 12v caravan TV with low power consumption, it's even better to find one with a backup battery. In the last few decades, battery-operated TVs have become a thing and with only two hours charge some of them can keep running for up to 10 hours or even more, plus it can charge your phone and other devices via a USB connection. The ideal TV for your caravan should have at least three power options, 12-volts DC power, mains hook-up and built-in rechargeable battery. With this many power features, you can never run out of options.
3. If you have an electrical hook up, look for one that can switch between 12v 24v & 240v
For your campervan TV, 12-volt is a good choice because you may not have access to a mains hook-up and to watch your favourite movies and TV shows, you will have to rely on your leisure battery for power. But an even better option is a campervan TV that can switch between 12 volts, 24 volts DC and 240 volts mains AC because it offers more flexibility. A TV that can switch between 12v 24v DC/240v AC option offers better returns for your investment because you can make use of mains hook-up and also use it in your home.
4. Love movies? Get a DVD/Blu-ray play inbuilt
While on the move in your caravan, you don't want to keep tripping over electronics and wires, so it's best not to carry too many devices like a DVD player. But this doesn't mean you have to sacrifice entertainment for some space, that would be awful. This problem can easily be fixed if you go for a 12-volt caravan TV with inbuilt Blu-ray and DVD players so you won't have to clutter the little space you have with extra appliances.
Most TVs with DVD players come with some exciting features like app support for apps such as BBC iPlayer, Netflix and Facebook, Freeview HD, and built-in soundbars. Interestingly, some 12-volt caravan TVs also come with digital TV decoder, built-in satellite receiver, free-to-air satellite, USB port – this is a great feature if you store most of your favourite movies and music in a USB device – and even HDMI input so you can even enjoy your favourite game console when you're away from home.
5. Internet connection – Wi-Fi is better than cable
You're probably one of the many people who watch TV on the internet at home, and while camping you may like to continue enjoying your favourite TV shows, this is very understandable. Therefore you need to get a 'smart' 12v caravan TV with built-in Wi-Fi and has the ability to download some Android apps like Netflix, BBC iPlayer and Sky Go. With a TV like this, you can connect to any Wi-Fi network available or even connect to your smartphone using your hotspot and stream exciting movies and shows.
6. Don't want to miss a thing? get a in-built hard drive for recording
A 12-volt caravan TV with a built-in hard drive for recording and storing files is an excellent buy. With it, you can record live TV shows and interesting videos, and if you take enough time to plan and prepare for your tour, you can record enough contents and create an impressive library of your favourite videos to keep you entertained throughout your travelling and camping. And you won't have to worry about videos hanging or taking forever to load due to poor network. Even while your caravan is in motion, the passengers can continue to enjoy the playback. For the ultimate holiday experience, a 12v caravan TV with impressive in-built storage is an excellent device to invest in.