While having a strong and reliable internet connection is not a must to enjoy a great time in your motorhome, it certainly is a wonderful convenience. Because you obviously wouldn't want to miss the latest episode of your favourite TV series or the latest news update from your favourite media house. Right?
So the problem is How to get WiFi in a Caravan!
*The links in this page are affiliate links, that means that if you purchase after following one, I make a small commission from the sale at no additional cost to yourself. Take a look at our disclosure page for more info on this.
Getting your camper online
Setting up WiFi in your caravan (or also narrowboats) is actually easy and there are two major ways you can do this. First, you can get a WiFi booster.
This is a good choice if you intend to access the internet via public WiFi networks, a WiFi booster will help you boost the speed of your internet. It works by connecting to weak signals from a WiFi network, amplifying these signals and sending them to your connected devices. The end result is much faster internet and download speed.
If you have a static caravan close to a signal, a booster could be your best choice, but there are a few additional options for getting WiFi in a static caravan.
Alternatively, you can get WiFi in a caravan by using a 4G Mi-Fi device or portable cellular hotspot. This can either be the hotspot from your smartphone or a Mi-Fi device which is a portable WiFi hotspot — and it's a better option.
A Mi-Fi or mobile WiFi is a portableWiFi router or modem that allows you to connect multiple devices to a 3G or 4G data sim. It's a great option for your caravan especially if you want a private and secure internet connection. Secure internet connection is very important if you'll be making any online payments that'll require that you enter your credit card details.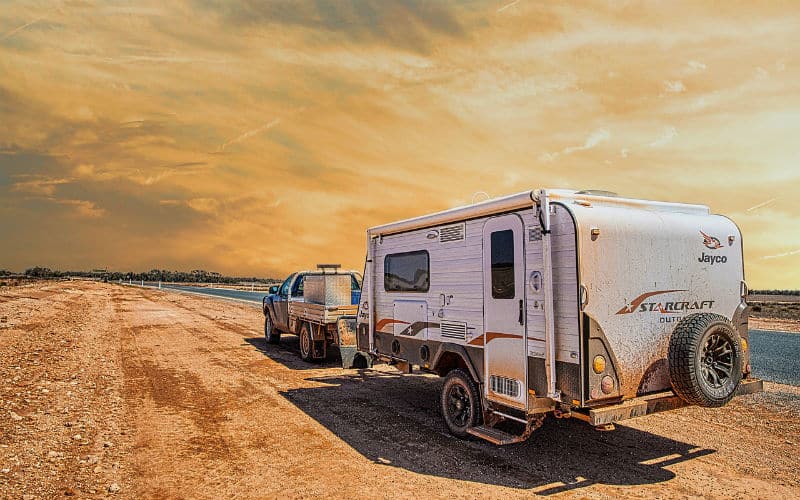 What to look for in a WiFi booster
If you're really wondering how to get WiFi in your caravan, you may want to try a WiFi booster for faster internet connection and wider coverage. Here are a few things to look for in a good WiFi booster.

Excellent coverage: a WiFi booster with less than average coverage is almost as good as useless. Excellent coverage in a WiFi booster can be the single most important feature because that will determine the ability of the booster to provide you with the much-needed network coverage.

Frequency band: also you need to look for a dual-band repeater. WiFi boosters come as either single band or dual band, the former works only with 2.4GHz while the latter supports but 2.4Ghz and 5GHz. Dual-band WiFi booster has more bandwidth and less interference (a major advantage over the single band boosters), therefore they provide faster internet connection and are best for streaming online videos.

Ethernet ports: some WiFi boosters come with ethernet ports. These Ethernet ports allow you to connect certain devices (devices with wire) directly to the booster via these port for faster and smoother internet experience. Gigabit Ethernet ports (GE ports) are especially powerful, they can deliver speeds of over one gigabit per second over 5GHz.

Easy to set up: some WiFi boosters work straight out of the box, that's how easy-to-use some of these gadgets are. Though some others may need a few installation steps, the key is to make sure it's easy to set up. Another thing you may want to consider is the size, do you want a powerful yet inconspicuous device or a relatively large and obvious booster. I suggest you go for a small and powerful booster.

Robust weatherproof: a WiFi booster that can withstand the harsh and ever-changing weather conditions will most likely serve you better and last longer than one of a less sturdy build.

What to look for in a Mi-Fi portable hotspot
A Mi-Fi device is an excellent portable WiFi for camping and can be a great way to get WiFi in your caravan and stay connected to the internet throughout your camping holiday. But before you make that purchase there are a few things you should know.

Very fast internet connection: Mi-Fi hotspot uses cellular connection and is very similar to your smartphone, and as you may already know connecting several devices to your mobile hotspot can slow down your internet speed. This also applies to Mi-Fi devices, so you need to make sure the device you go for has a very reliable internet connection and speed. And to avoid undue frustration, your download speed shouldn't slow down to a crawl simply because you connected several devices to your Mi-Fi.

Multiple device connection: although most Mi-Fi gadgets connect to multiple devices at once, it's still necessary that you find out the maximum number of devices the Mi-Fi you're looking to buy can connect to. Some can connect to about 10 devices while others can connect to a lot more. Being able to connect several devices to your Mi-Fi will also save you the money you would have spent on mobile data for each device.

Battery life: since you'd be away from civilisation and would need to conserve energy, a long-lasting Mi-Fi battery is absolutely important. Some Mi-Fi devices have batteries that last for as little as 4 hours while some others have battery lives of about 8 to 16 hours. A Mi-Fi with a long-lasting battery is a better-suited device for road trips and camping.

Roaming charge: one of the most important things to keep in mind when looking to buy a Mi-Fi device is the cost of mobile data per day or per month. Since Mi-Fi uses sim cards and works much like your smartphone data, you can subscribe to a plan that suits you. There are monthly, yearly or pay as you go plans.

The monthly bundle may sound great but if you use a lot of data then you may be better off with a 12-month subscription because the 30-days bundle tend to have low data limits. In the UK, the major networks that offer MiFi contracts are Vodafone, Three and EE, some of these operators offer free roaming in the EU and a fixed rate when you travel beyond the borders.
WiFi vs Mi-Fi hotspot
Choosing the best way to set up WiFi in your caravan can be a little confusing and you may find yourself wondering which will offer a better camping experience. A quick look at the pros and cons of each will hopefully make it easier for you to make a choice.
WiFi Booster
WiFi networks for your caravan are great if you intend to stay in a park or close to any easily accessible public WiFi.
Pros
Using public WiFi is free and does not require any payment
One time purchase of a booster will increase your internet speed — no recurring payments
Cons
It's not secure
Your connection depends on your position and distance from the WiFi router
Mi-Fi Hotspot
Mi-Fi is great for stress-free internet connection anywhere and anytime provided you have an active plan.
Pros
It's private and secure
You can connect up to 10 or more devices
It offers a faster internet connection
It's more flexible and convenient than Wi-Fi networks
Cons
It costs money because you need to pay for mobile data and it's a recurring payment.
The speed of the internet connection depends on the cellular data signal strength
Connecting multiple devices can slow down the speed of your connection
How to get wifi in a caravan: Recommended Wi-Fi Boosters
1. WAVLINK AC1200 Outdoor WiFi Access Point with Poe
If you want to successfully tap into a public Wi-Fi network when next you go camping in your caravan, then make sure you get a good Wi-Fi booster. This Wi-Fi booster from WAVLINK will give you that smooth and fast internet connection you want, it is a dual-band booster and has an impressive wide coverage. It's designed for outdoor use and enhances wireless network and covers up to 200 feet.
As an outdoor Wi-Fi booster, it's made to withstand the elements and can firmly attach to walls and poles. It also supports multiple operation modes such as router, wireless access point, booster, etc.
As a device designed for outdoor use, it may not function as well as it functions outdoors inside buildings as the signal may not travel well through obstructions like thicks floors, walls and ceilings. However, it's an ideal booster for outdoor use and definitely will suit a camping holiday in a caravan.
Pros
Wide coverage and fast internet connection
Weatherproof and sturdy build
Dual bands; 2.4GHz and 5GHz
Easy to set up
Cons
Not very suitable for indoor use
Expensive
2. Motorhome WiFi iBoost Directional System
Nothing is as frustrating as a very sluggish internet connection and honestly, it can make you lose your temper. But with an excellent Wi-Fi booster, you can avoid that frustration and enjoy faster internet and download speed.
The Universal Wi-Fi booster is another excellent device for amplifying and receiving clear signals from Wi-Fi networks and routers placed very far away. It does a great job of transmitting strong signals and it also allows you to connect several devices simultaneously. It's proudly made in the UK and it's ideal for boosting signals on caravan campsites.
Pros
Wide coverage
Fast internet connection
Weatherproof and robust
Cons
Expensive
Not very easy to set up
Recommended Portable Hotspots
1. NETGEAR MR1100 Nighthawk M1 Mobile Hotspot 4G
Portable Wi-Fi hotspot is another great way to set up internet connection in your caravan and this Mi-Fi from NetGear checks all the boxes for a great mobile Wi-Fi to take with you to virtually any part of the globe. This cellular hotspot uses 3G/4G LTE broadband speed and it delivers up to 1Gbps download speed plus it allows you to connect up to 20 devices at once.
While camping you may not have sufficient power supply which makes the 5,040 mAh rechargeable battery for all day usable truly priceless. You also get to monitor your data usage and see the mobile signal strength on a 2.4" LCD screen.
Pros
Wide coverage
3G/4G LTE secure connection
Can connect up to 20 devices
Cons
Not budget-friendly
Battery isn't very solid
2. Macaroon Mobile Wi-Fi Hotspot
Another great Mi-Fi device for connecting to the internet while out in your caravan is the mobile Wi-Fi hotspot from Macaroon. This device is great for accessing the internet while camping in your motorhome, it's also great for business trips and travels and can connect to the internet from virtually anywhere.
It comes with free 1GB global data and 5GB EU data covering about 40 countries in Europe. You can connect up to 10 devices at once and enjoy seamless 4G LTE connection on all devices, plus it comes with a downloadable app from which you can monitor and control your data usage. This an excellent Mi-Fi device to take on a trip to any part of the globe and you won't be disappointed.
Pros
Worldwide coverage with cloud-based SIM technology
Stable, private and super-fast 3G/4G LTE connection
Can connect up to 10 devices
Network monitoring app
Compact and portable
Cons
Frequently Asked Questions
Can I get Wi-Fi in my caravan?
Yes, you can. And how to get Wi-Fi in your caravan is actually easy, you can either get a Wi-Fi booster for better signal reception. Or you can get a Mi-Fi which is a portable hotspot device or mobile Wi-Fi, and it works very well too. Alternatively, you can get both, using one as your main connection and the other as backup.
How can I boost my hotspot signal?
If your hotspot signal is poor, there are a few things you can do to improve your reception. First, check for LTE coverage. If you are in a place that do not support cellular 4G LTE, your internet will be much slower than usual. Second, check if you connected too many devices to your portable router.
Too many active connections to your Mi-Fi device will require more bandwidth and this can slow down your internet. Lastly, check the position of your portable Wi-Fi router. Despite the fact that wireless signals can pass through walls and ceilings, too many obstructions can slow down the transmission and fewer obstacles mean better reception.
Do Wi-Fi boosters really work?
If you're still sceptical about Wi-Fi boosters, especially if you haven't used one before, then you should know that they work just fine. Wi-Fi boosters amplify the signal produced by a Wi-Fi router, making this signal much stronger for a faster internet connection.
Which is better for my caravan; Wi-Fi or Mi-Fi?
Wi-Fi and Mi-Fi are both great for camping but the best option for you will depend on your camping style and personal preference. If you prefer to camp in parks and only need Wi-Fi for entertainment purposes, then you can go with Wi-Fi booster. But if you'd rather have a private and secure connection for high-speed internet and fast download, then a Mi-Fi is definitely a better choice.
Final thoughts on how to get WiFi in a caravan
Setting up Wi-Fi in your caravan is one of the basic requirements for a good camping experience. And thankfully, staying connected to the internet while camping is now very easy with the number of available options. Whether you choose a Wi-Fi booster or a portable Mi-Fi device, you no longer have to put up with sluggish and crappy internet or even worse, miss any episode of your favourite TV shows.